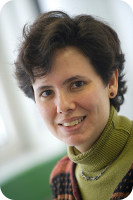 SPEAKER
Prof Mónica CAMPILLOS
Director, Ludwig Boltzmann Institute Group leader at Helmholtz Zentrum München (HMGU), German Research Center for Environmental Health, Munich, Germany (Systems Pharmacology)


HOST:
Department of Oncology

RESPONSIBLE LIH SCIENTIST:
Dr Francisco AZUAJE
(francisco.azuaje@lih.lu)

www.lih.lu
BIOLOGICAL INTERROGATION OF INTEGRATED RESOURCES OF HIGH-THROUGHPUT CHEMICAL AND PHENOTYPIC DATA OF PERTURBATIONS

ABSTRACT


In this talk, I will give an overview of the research activities of my research group at the Helmholtz Zentrum München. We are interested in understanding the phenotypic response of chemical and genetic perturbations in mammalian organism. To that aim, we have developed integrated resources and tools of high-throughput chemical screens as well as organismal phenotypes from genetic and chemical perturbations. These include the target prediction method HitPick and the Organ System Heterogeneity database.
The interrogation of these resources using systems biology approaches has revealed novel insights into the drug/target/ phenotype relation, extending the current knowledge on drug action. For example, we have predicted novel drug contraindications exploiting the similarity of drug side effects and disease symptoms. The application of novel drug target de-convolution methods to chemical high-throughput screens have enabled to uncover new connections between drugs targets and phenotypes. Novel findings have been experimentally validated in collaboration with lab research groups.