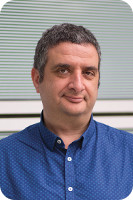 SPEAKER
Prof. Eric TARTOUR
Head Department of Immunology: Hôpital Européen Georges Pompidou Head Inserm team «Immunotherapy and anti-angiogenic therapy in oncology», Paris, France


HOST:
Department of Oncology

RESPONSIBLE LIH SCIENTISTS:
Bassam Janji
(bassam.janji@lih.lu)

www.lih.lu

www.uni.lu

IMMUNOTHERAPY : BEYOND ANTI-PD-1 AND ANTI-CTLA-4

ABSTRACT


The blockade of the PD-1-PD-L1 / PD-L2 and CTLA-4-CD80 / CD86 axis has led to major clinical advances and made it possible to impose immunotherapy as a new therapeutic strategy in oncology. If 25-30% of patients respond to these treatments, the challenge for the next few years will be to understand the resistance to these treatments and to propose new approaches to immunotherapy. Other inhibitory receptors (Tim-3, Lag3 ...) expressed by T lymphocytes are likely to participate in this resistance. The absence of natural anti-tumor
responses may also explain the failure of anti-PD-1 / PD-L1 therapy in some cancer patients. Induction of T-CD8 lymphocytes by anti-tumor vaccination or oncolytic virus or adoptive transfer of anti-tumor T cells ("Chimeric Antigenic Receptor T cells") associated with the blocking of these inhibitory receptors are under evaluation. Finally, a better mapping of the mutational profile of the tumor, signaling pathways and immune cells infiltrating the tumor microenvironment will help to better select the patients most likely to benefit from these treatments.