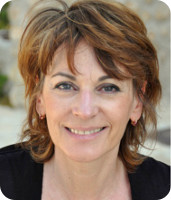 SPEAKER
Prof Patrizia AGOSTINIS
Head of the Cell Death Research & Therapy laboratory, Department of Cellular and Molecular Medicine, University of Leuven, KU Leuven, Belgium


HOST:
UniLu and LIH

RESPONSIBLE LIH SCIENTISTS:
Thomas Sauter
(thomas.sauter@uni.lu)
Bassam Janji
(bassam.janji@lih.lu)

www.lih.lu

www.uni.lu

HARNESSING IMMUNOGENIC CELL DEATH FOR IMMUNOTHERAPY AGAINST CANCER; FROM TRANSLATIONAL MEDICINE TO MOLECULAR MEDIATORS

ABSTRACT


In recent times, crucial cellular processes supporting cancer cell growth and regulating the crosstalk between cancer cells with stromal cells, the major hallmarks of cancer, have been delineated, which are expected to facilitate anticancer therapy development. Therapeutic induction of endoplasmic reticulum (ER) stress is emerging as a strategy to target multiple hallmarks of cancer, and several ER stress-inducing therapies exhibit a positive clinical profile in cancer patients. Recently, therapy-induced ER stress has been shown to be a quintessential cancer cell-autonomous feature
to elicit immunogenic cancer cell death (ICD). In therapeutic terms, ICD is the most favorable type of cell death since it combines efficient cancer cell killing (a cell autonomous feature) with the ability to activate the immune system against cancer (cell non-autonomous features), therefore resetting two key hallmarks of cancer; resistance to cell death and evasion from anti-tumour immunity. Here, I will discuss novel therapeutic applications of ICD for immunotherapy of glioblastoma and delineate novel molecular mechanisms underlying the ICD core machinery.