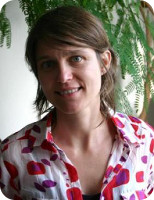 SPEAKER
Prof Kathleen MARCHAL
Associate Professor, Dept of Plant Biotechnology and Bioinformatics, Faculty of Sciences; Dept of Information Technology (IDLab, IMEC), Faculty of Engineering, Ghent University, Gent, Nederlands


HOST:
LIH / University of Luxembourg

RESPONSIBLE LIH SCIENTISTS:
Francisco Azuaje
(francisco.azuaje@lih.lu)
Léon-Charles Tranchevent
(leon-charles.tranchevent@lih.lu)

www.lih.lu
www.uni.lu

INTEGRATIVE NETWORK-BASED ANALYSIS FOR SUBTYPING AND CANCER DRIVER IDENTIFICATION

ABSTRACT


Linking omics data of tumor samples with the patients' clinical phenotype offers the potential to identify biomarkers and drug targets. Network-based approaches, which drive the genotype phenotype association by a prior molecular interaction network, are powerful data analysis strategies as they allow (1) dealing with small cohort sizes, (2) providing an intuitive scaffold for integrating multiple data sources in order
to identify pathways that are recurrently hit by mutations, but also functionally affected by these mutations and (3) providing insight in the mechanism of the cancer-related phenotype. We will illustrate the power of fully integrated network models in prioritizing rare mutations that can be coupled to a functional and/or a clinical phenotype.